New York state's largest medical-cannabis companies, which have been barred from wading into the adult-use market for more than two years, are saying they've waited long enough for licenses from the state.
Chief executives of Curaleaf CURLF, +5.06%, Green Thumb Industries GTBIF, +3.04%, Acreage ACRHF, +4.51% and PharmaCann said the state's Office of Cannabis Management under Gov. Kathy Hochul is putting New York's cannabis program "on a clear course for failure."
While the Office of Cannabis Management has estimated that 2,000 retail dispensaries are needed to serve the New York market, the state is projected to have fewer than 100 open by early 2024, the companies said.
Also read: New York opens new cannabis stores, issues more licenses as illicit stores thrive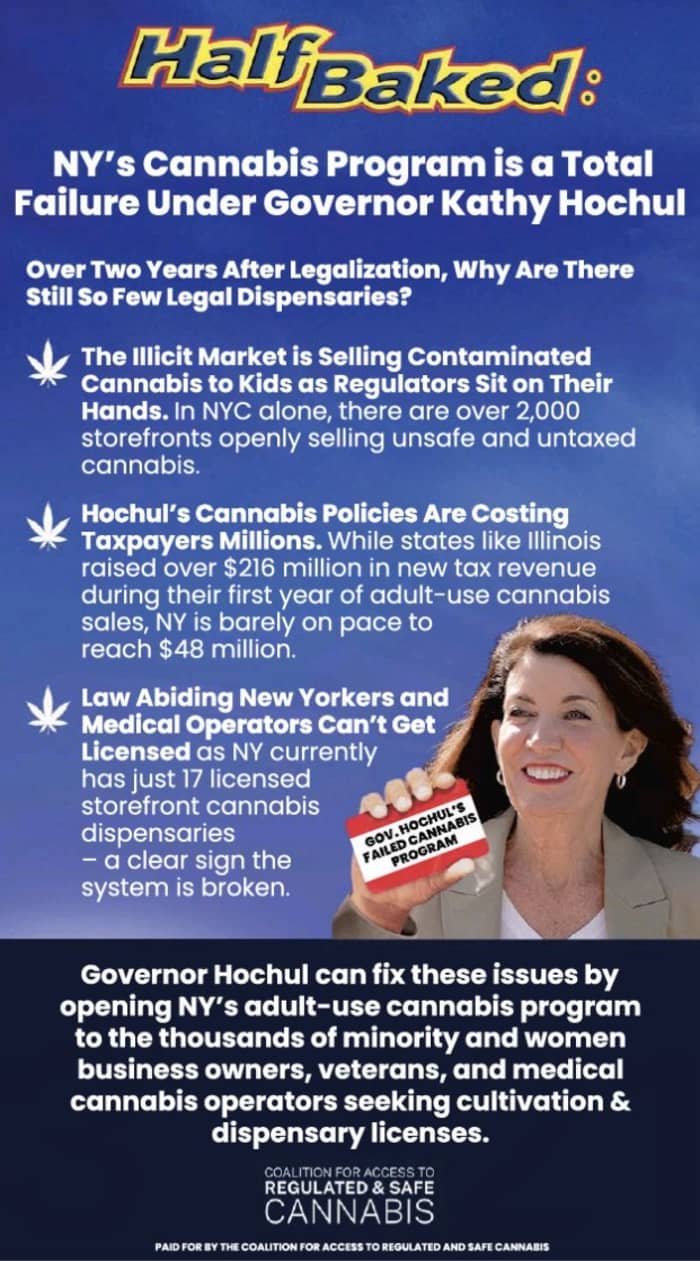 New York state legalized adult-use cannabis in 2021. In the past year or two, the companies said, thousands of illegal stores have been flooding the market with unregulated cannabis products that in some cases have been sold to children, and they have also diverted business from the state's licensed medical dispensaries.
While cannabis was legalized in the state more than two years ago, existing medical-pot companies have not been issued any permits, because the state is issuing its first licenses to social-equity applicants under its Conditional Adult-Use Retail Dispensary Program (CAURD).
"OCM has ignored the collective wisdom of every other state with an adult-use cannabis program — most recently Maryland — to permit existing medical operators to stand up the adult-use market," the companies said in an Aug. 31 letter to Hochul that was seen by MarketWatch.
Spokespersons for Gov. Hochul did not comment on a query from MarketWatch about the letter.
Also read: New York issues first retail cannabis licenses to business owners with a past conviction in a first for the sector
Chief executives Matt Darin of Curaleaf, Brett Novey of PharmaCann, Ben Kovler of Green Thumb Industries and Dennis Curran of Acreage requested an immediate issuance of licenses to qualified medical operators.
Such a move could add up to 33 retail cannabis locations to those currently operating in the state and, they said, "provide a dependable supply of safe, tested cannabis products."
Under current state law, 11 medical operators would be allowed to open three adult-use retail dispensaries each, which is "hardly a 'monopoly' by any standard," the companies said.
The subject of licenses is expected to come up when the state's Cannabis Control Board meets on Sept. 12.
In July, the state's Office of Cannabis Management approved 212 CAURD licenses, bringing the total number of licenses in the state to 463.
However, only a much smaller number of licensed shops are currently operating because of the steep startup costs and real-estate challenges of opening up a retail business in the state.
The state's program has also faced a number of legal hurdles, mostly recently a lawsuit in the state supreme court brought by four military veterans alleging that the state is breaking the law by giving license priority to people with previous marijuana convictions rather than to disabled veterans.
Last month, State Supreme Court Justice Kevin Bryant lifted a temporary restraining order on 30 licensees, but an injunction remains in place on issuing or processing new licenses while the lawsuit is being worked out. The next hearing on the lawsuit has been scheduled for mid-September.
Also read: HHS recommendation to reschedule cannabis keeps pot stocks hot, but questions remain