That's the word viewers of a public-service announcement featuring former "Will & Grace" cast members Debra Messing, Eric McCormick and Sean Hayes are encouraged to text to the number 26797 in order to facilitate the voter registration of unregistered friends and other contacts.
The occasion: National Voter Registration Day.
It's also, not coincidentally, Register a Friend Day.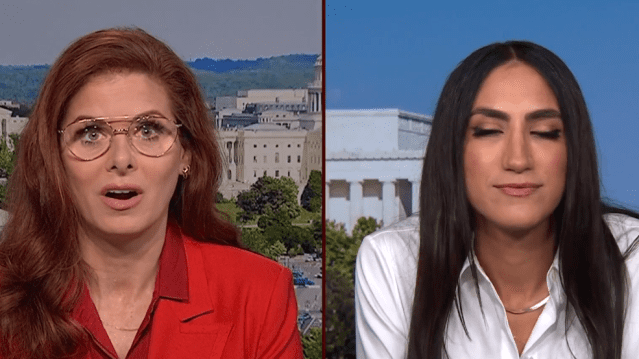 (The federal-government-operated USA.gov includes a how-to-register-to-vote page.)
Messing, as is well known, has lent her name to get-out-the-vote efforts in the past and has actively supported such Democratic candidates as, in the 2016 presidential election, Hillary Clinton.
A reminder from a friend makes one up to twice as likely to vote, observed Iranian-born lawyer Mandana Dayani, the "Will & Grace" star's I Am a Voter co-founder, in an MSNBC interview on Monday.
Research cited in October 2020 by Columbia University appeared to show a more modest, but still positive, impact on nudging voters to polling places.
I Am a Voter is billed as nonpartisan — "ostensibly," adds InfluenceWatch.
National Voter Registration Day has been marked every September since 2012. Since that year, more than 5 million voters across all 50 states are said to have registered to vote on National Voter Registration Day, including 1.5 million in 2020. It is described as "a day of civic unity" and "an opportunity to set aside differences; enjoy the rights, responsibilities, and opportunities we all share as Americans; and celebrate our democracy together."
Partners and sponsors include such companies as Google GOOGL, -1.30% GOOG, -1.38%, Aflac AFL, -1.36%, Target TGT, +0.44%, Bayer BAYN, -2.20%, Microsoft MSFT, -2.61%, Univision CMCSA, -1.70%, Comedy Central, VH1 PARA, -4.77%, Spotify SPOT, -2.28%, iHeart Media IHRT, -2.33%, Snap SNAP, -2.29%, Levi Strauss LEVI, -2.44% and Patagonia as well as organizations including the American Library Association, the NBA, the National Urban League, the National Association of Realtors and the United Way.
The Pew Research Center has found that as many as one in three eligible voters in the U.S. is not registered, even as interest in elections and turnout have appeared to trend upward in recent years.
Key Words (November 2018): Midterm voter turnout was highest in a century — but U.S. won't be confused with Australia any time soon