Citigroup Inc. on Monday said it has informed employees of a "next layer of changes" under Chief Executive Jane Fraser's plan to streamline the bank, as it continues it biggest realignment in about 20 years.
Citigroup did not immediately respond to MarketWatch's request for comment on reports that 300 senior roles are being affected in this specific move.
Citigroup C, +0.80% said continues work to align its organization structure with a "new, simplified operating model" that it initially announced on Sept. 13.
Citigroup stock was up by 0.4% on Monday.
"As we've acknowledged, the actions we're taking to reorganize the firm involve some difficult, consequential decisions, but we believe they are the right steps to align our structure with our strategy and ensure we consistently deliver excellence to our clients," Citi said in a statement.
The bank has not commented on reports saying as many as 10% of workers could be eliminated from some businesses.
Citigroup has said it would provide full details of the actions in January when it reports fourth-quarter results.
On Nov. 6, CNBC reported that as many as 10% of employees in some business units will be let go as part of what the bank is calling Project Bora Bora, and that layoffs will begin soon.
Citigroup disclosed 238,000 employees as of Sept. 30, down 2,000 from June 30.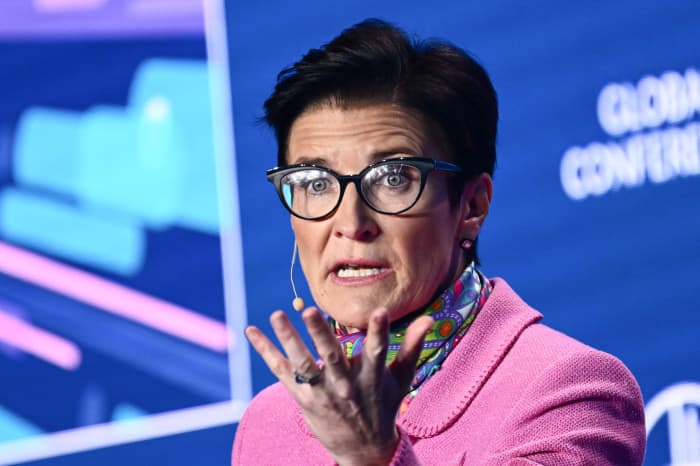 Chief Executive Fraser told analysts on Oct. 13 that the reorganization ranks as the most consequential changes in how management runs the bank in almost 20 years,
"Our org model was set up for a financial supermarket," Fraser said. "That is simply not the bank we are today. So we're aligning the organizational model with that simpler business mix and strategy."
The layoffs at Citi come after a mixed quarter for the biggest banks on Wall Street for hiring and firing.
Goldman Sachs Group Inc. GS, +1.80% added about 1,300 jobs from the second quarter to bring its total to 45,900 as of the end of the third quarter, while JPMorgan Chase & Co. JPM, +1.10% added 8,603 positions to bring its head count total to 308,669 as of Sept. 30, according to quarterly filings.
But Wells Fargo & Co. WFC, +1.54% reduced its total head count by 6,471 to bring its total down to 227,363 as of Sept. 30.
Bank of America Corp. BAC, +0.98% ended the third quarter with 2,794 fewer employees to bring its total to 212,752.
Morgan Stanley MS, +2.40% reduced its head count by 1,296 to 80,710 during the quarter.
Separately, Citigroup said it closed the sale of its retail operations in Indonesia in its ongoing plan to scale back its overseas operations. Citi will continue its institutional banking efforts there.
Citi completed the sale to UOB Indonesia its retail banking, credit card, and unsecured lending businesses, as well as the transfer of employees.?
Citi has now closed sales in nine of 14 markets including?Australia, Bahrain, India, Malaysia, the Philippines, Taiwan, Thailand and Vietnam, in addition to Indonesia. Citi continues to wind down business in China, Korea and Russia. It's also pursuing an initial public offering of its consumer, small business and middle-market banking operations in Mexico.
Citigroup's stock has risen by 0.5% in 2023, compared with a gain of 17.9% by the S&P 500? SPX.
Also read: Bank of America, JPMorgan Chase and Wells Fargo shares shrug off Moody's outlook cut to negative from stable