U.S. stocks are up in 2023, but the S&P 500 has fallen to the bottom of its bullish trading channel as the index has slumped so far this month, according to Bespoke Investment Group.?
The S&P 500 SPX ended 0.2% lower on Tuesday at 4,443.95, as traders await the outcome of the Federal Reserve's two-day policy meeting that concludes on Wednesday.?
"It's currently at the bottom of its uptrend channel and below its 50-day moving average," said Bespoke, in a note Tuesday that tracked the S&P 500's trading channel in the chart below.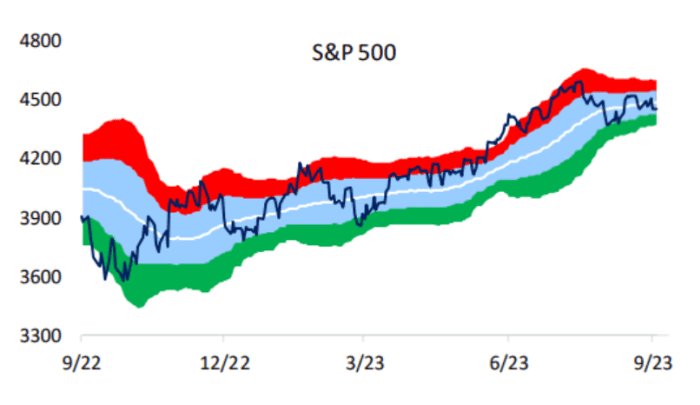 Meanwhile, the S&P 500 has entered its "weakest 10-day period of the year" historically, according to a BofA Global Research note on Tuesday. That stretch, which is the last 10 days of this month, began Sept. 18, the note shows.?
So far in September, the S&P 500 has fallen 1.4%, but still has gains of 15.7% this year, according to FactSet data. The index finished Tuesday below its 50-day moving of 4,484, with the U.S. stock benchmark on track for back-to-back monthly losses after strong performance this year through July.
"We've begun to notice more stocks across a few sectors that are either breaking down or failing at key resistance levels," said Bespoke. The weak patterns are "mostly showing up" in sectors such as consumer staples and healthcare, according to the firm's note.
"On the bullish side, we're seeing the most strength in energy and financials, particularly insurance stocks within the financials sector," Bespoke said.?
While the S&P 500 has fallen so far in September, the benchmark's energy sector has climbed 3.4% this month amid a jump in oil prices, according to FactSet data.??
Higher oil prices CL00, -5.09% helped fuel inflation in August, with the consumer-price index rising 0.6% last month for a year-over-year rate of 3.7%. That was up from a 3.2% pace in the year through July.?
Fed Chair Jerome Powell is scheduled to hold a press conference at 2:30 p.m. Eastern Time on Wednesday, after the central bank's policy meeting wraps up. Investors will be looking for clues about how long the Fed may keep interest rates at elevated levels in its bid to bring inflation down to its 2% target.