Small-cap stocks have significantly underperformed their large-cap peers so far this year, but that may be due to change as seasonal factors that favor the former kick in, according to a top Wall Street technician.
The Russell 2000 RUT, made up of the 2,000 smallest companies by market capitalization in the Russell 3,000 RUA, went up merely 2.6% so far this year, versus a 18.6% gain by the large cap benchmark S&P 500 SPX, and a 36.6% advance by the tech-heavy Nasdaq Composite COMP, according to FactSet data.
The rally of large-cap tech stocks continues, as the Technology Select Sector Fund XLK, which tracks the S&P 500 information technology sector, is on pace to close at a record high on Monday, according to Dow Jones market data. The Nasdaq-100 NDX index, which consists of 100 of the largest nonfinancial companies listed on Nasdaq, is also on pace to finish at a yearly high on Monday.?
However, the trend might reverse, as Microsoft MSFT, +0.88% and Apple AAPL, +0.74%, the S&P 500 tech sector's heaviest weighted stocks making up 47% of the index, are hitting "trend-line resistance with a negative momentum divergence," according to Jonathan Krinsky, managing director and chief market technician at BTIG.?
Meanwhile, seasonality favors small-cap stocks over the large-cap ones through February, Krinsky noted.?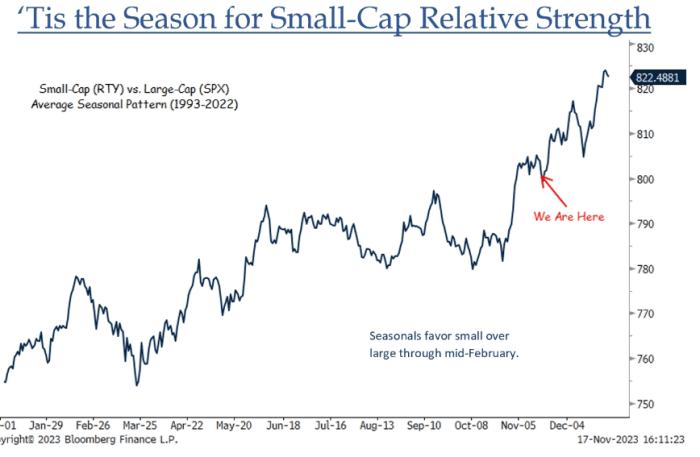 There is likely to be a breakout in Russell 2000 versus the S&P 500 in the coming weeks, according to Krinsky, who said small-caps are entering the best stretch of relative strength versus the S&P 500 "from now through mid-February."