Solar stocks keep plunging Wednesday, with Truist analyst Jordan Levy saying investors are now just selling, without much concern over why they are selling.
Levy added to the negative sentiment, by downgrading the shares of residential solar systems installers Sunnova Energy International Inc. NOVA, +8.45% and Sunrun Inc. RUN, +11.16% even after they suffered outsized selloffs, as he still sees no reason to expect a bottom in the near term.
On the sunny side for the sector, Levy said as with most "broad-natured" selloffs, he said he believes the recent price action creates an opportunity for those investors willing to ride through potential near-term volatility. (See below for more about the sector's technical outlook.)
The Invesco Solar ETF TAN sank as much as 2.6% to the lowest intraday price seen since Aug. 3, 2020, before reversing to close up 0.7%. It has tumbled 31.4% over the past three months, while the S&P 500 index SPX has lost 4.1% over the same time.
Levy said the sector had been suffering broad weakness from recently renewed investor concerns that interest rates would stay "higher for longer."
While Levy believed it's important to focus on the long-term when investing in sustainability, the "sell first, ask questions later mentality" of investors has led to a "phase of valuation rationalization" that keeps it difficult to ride out the near-term volatility.
So while recognizing that the downgrades of Sunnova and Sunrun shares come after they have already fallen sharply over the past month, there is nothing that likely "flips the script" for the shares in the near term.
"While we believe [Sunnova and Sunrun] will continue to take share given their strength in TPO [third-party originator] financing, equity price response post 2Q results makes it clear to us that the market is no longer rewarding outsized growth while companies continue to compete in the 'land grab' U.S. [residential] space," Levy wrote in a note to clients.
Shares of both Sunnova and Sunrun have tumbled roughly 32% over the past month. Sunnova's stock has dropped 46.9% since the company reported second-quarter results on July 27 and Sunrun's stock has shed 41.0% since results came out on Aug. 2.
He lowered his rating on both stocks to hold from buy, while cutting his price target on Sunnova to $11 from $35 and on Sunrun to $12 from $30.
Among others in the sector, he still rated the stocks of Array Technologies Inc., Generac Holdings Inc. GNRC, +4.47%, Nextracker Inc. NXT, +4.85%, Shoals Technologies Group Inc. SHLS, +7.08% and SolarEdge Technologies Inc. SEDG, +3.91% at buy, and the shares of Enphase Energy Inc. ENPH, +5.44% and SunPower Corp. SPWR, +16.14% at hold.
Invesco Solar ETF is the most oversold it's been in 8 years
As Levy said, the "sell first" mentality of investors has created an opportunity for brave investors. And based on how far the Relative-Strength Index has fallen on the stock's chart, many technicians may agree.
The RSI is a momentum indicator that measures the magnitude of recent gains against recent losses. It is viewed as flashing an "oversold" condition, relative to its trading history, when it falls below the 30 level.
Read more about the RSI indicator, and what it means for a stock.
The solar ETF's RSI has been below the oversold threshold since Sept. 25. On Tuesday, it fell to 18.81, the lowest reading since it hit 14.92 on July 8, 2015, according to FactSet data, before bouncing to 21.01 on Wednesday.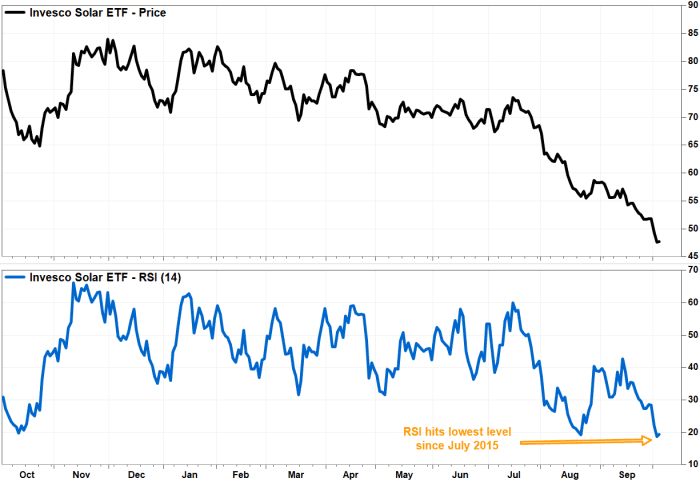 One thing to keep in mind is the technicians' adage that oversold doesn't mean over. While the extreme readings could lead to short-term bounces, some believe the ability to become oversold is a sign of underlying weakness suggesting the longer-term downtrend is likely to continue.
What investors should watch for is what chartists call bullish technical divergence, when the stock hits a new low but the RSI is above its previous lows. That technical condition suggests momentum may have bottomed, leaving bears vulnerable to a counterattack by bulls.
Back on July 15, 2015, when the RSI hit its low, the ETF closed at $37.06. While the ETF bounced 1.6% amid a three-day win streak, it quickly resumed its longer-term trend.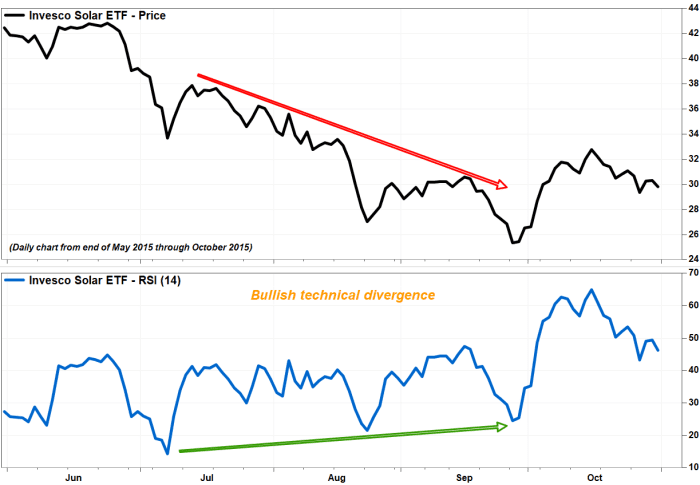 The ETF's next closing low of $27.02 on Aug. 24, came with the RSI at 21.66. The ETF rose 13.2% over the next three weeks before peaking.
At the next lower price low of $25.35 on Sept. 28, the RSI hit a higher low of 24.61. The next bounce traveled 29.3% in less than three weeks before pulling back again.